Queens theatrics earn our Kudos Awards | Times Ledger, Kevin Zimmerman
• Outstanding supporting actress in a play — Megan Greener in the double roles of Starveling and Cobweb in the Queens Players version earns the top nod. As a member of the performing troupe comprised of village tradesmen, led by Bottom, Greener is able to communicate joy, sorrow and shame without saying a word. But she speaks volumes through her expressive eyes and slightly exaggerated movements. Greener provides some of the show's biggest laughs, but she is definitely in on the joke
• Outstanding supporting actor in a play — Another highlight in the Queens Players version of "A Midsummer Night's Dream" was Blaine Smith as Bottom, who earns the nod in this category. Smith chewed plenty of scenery as the overly confident actor in the play within the play. But by playing bad so good, Smith pulls off a marvelous and delightful treat for the audience. It might seem like portraying a bad actor would be easy, but doing a good job at bad acting is quite the feat. Smith pulls it off with aplom.
---
A Midsummer Night's Dream as Night Circus | Nick Leshi, City of Kik | September 27, 2013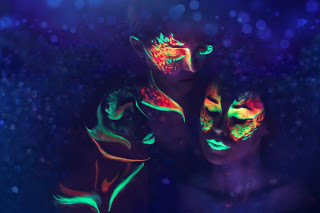 While many of us wait for Julie Taymor's visionary interpretation of A Midsummer Night's Dream to arrive at Brooklyn's Theatre for a New Audience, the other boroughs are providing their own versions of William Shakespeare's fantasy-filled romantic comedy. In Manhattan, the Metropolitan Opera is mounting Benjamin Britten's composition, while the Players Theatre downtown is running the show as the inaugural production of The Theatre Project. Head across the East River and you'll have the pleasure, as I did Thursday night, to see The Queens Players bring the story to life at the Secret Theatre at 4402 23rd Street in Long Island City.
Although I'd been there before to see a few other shows, I arrived early to make sure I could find the place. Despite its name, the Secret Theatre isn't a problem to locate — although I did find myself roaming in circles a bit as I searched for the right stage, as if Robin Goodfellow himself was teasing me along. I shouldn't have worried — right before the house was opened, a nice crowd of patrons made it hard to miss as they gathered by the entrance to the intimate Poco Space, which was newly built and serves as a marvelous little black box theater.
A Midsummer Night's Dream is one of my favorite plays and one of the Bard's most beloved creations. In addition to the other adaptations mentioned above, any given summer throughout the country will offer countless opportunities to see the now familiar tale unfold, often outdoors. Many of these efforts tend to be uninspired, but the classic continues to endure because it lends itself to so many marvelously creative ways to retell the story. Now, The Queens Players have given us a fresh take on Shakespeare's whimsical, mind-trippy romp.
Directed by Illana Stein, the timeless events in the enchanted woods near Athens are presented through the black-lit dazzle of a magical wandering night circus. Jonathan Emerson is delightful as the impish Puck, at times setting the stage for what will soon unfold as a sad-eyed mime, at others pulling the strings of all the characters like some godlike ringmaster. When he finally speaks to his fairy kin, taking off his hat to reveal his horns with a mischievous grin, announcing that he is indeed "that merry wanderer of the night," his striped shirt and face paint illuminated with an otherworldy glow, it truly feels as if real magic is about to begin.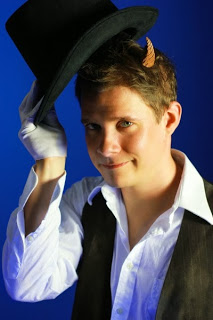 The use of black light to distinguish between the world of humans and the realm of the supernatural is a clever choice, used sparingly, just enough to establish the desired effect without becoming an overused gimmick. It actually seemed to become more effective as the plot moved along. (I saw the crew adjusting the overhead lights during intermission, so maybe the subtlety was unintentional, but whatever the case might be, it worked.)
The circus theme works best with the climactic Mechanicals scene, as they present their play within a play in full clown attire. Even though I've sat through that scene too many times to count over the years, it's a testament to both the cast and Shakespeare's words that this time seemed completely fresh and thrilling. Each one of the working-class thespians is a delight to behold — Zack Friedman as Snout, Evan Greene as Quince, Ryan Krause as Snug, Marcus Watson as Flute, and the terrific Megan Greener as Starveling. In the standout role of Nick Bottom, Blaine Smith is pitch-perfect, presenting the self-centered performer in all his scene-stealing glory, and providing a believable vocal and physical transformation into an ass with impressively minimal makeup, while also presenting a suprisingly tender side after his metamorphosis is reversed.
The romantic leads offer some welcome slapstick, often missing in lesser productions, while not skimping on the serious tones that exist in the text beneath all the humor. Robin Rightmyer as the muscle-bound cad Demetrius and Kathleen Fletcher as the love-starved Helena are both wonderful, bursting with energy and some well played tender moments. At first the chemistry between Lysander, played by the extremely funny Jason Spina, and the beautiful Hermia, brought to life by the spirited Aurora Florence, seems a bit forced, but they quickly won me over as their dynamic personalities take over, conquering both the nightmarish machinations unleashed by Puck's love potion and any initial doubts I may have had. I was likely a victim of the early propaganda that was spewed against Lysander by Hermia's father Egeus, portrayed competently by Charles Baker, but Spina's non-stop enthusiasm and Florence's emotional verve made me root for them. All four of the lovers come across as endearing and totally entertaining, avoiding the pitfalls that often bewitch the play when those scenes are done by rote instead of the bold fearless abandon that Shakespeare's words necessitate.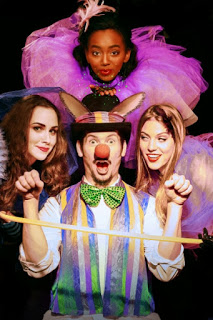 The finest moments of the play itself have always been the sparring between Oberon and Titania, loaded with incredible imagery of a world in crisis due to the regal duo's infidelity toward each other. Jeff Dickamore and Kate Siepert are excellent as the magical power couple. As is often done, they also play Theseus and Hippolyta. Titania's fairy army is played by Sheree V. Campbell as Mustardseed, Sabina Friedman-Seitz as Peaseblossom, Jaz Zepatos as Moth, and Megan Greener doubling up as Cobweb, all of whom do a fine job, especially in the dance and song sequences. The hypnotic twirling umbrella is a nice touch, for example.
The director Illana Stein says, "I wanted to take audiences on an invited, exhilarating journey to the unfamiliar, their own private 'Night Circus,' a world controlled by the fairies."
It is indeed exhilarating to return once again to Shakespeare's world of magic and wonder. If you're looking for a few hours of escapist entertainment, filled with laughs, love, and imagination through a story that's enthralled audiences for centuries, accept The Queens Players' invitation and head over to The Secret Theatre to see this fun, fantastical rendition of A Midsummer Night's Dream. The show runs through October 12, 2013.
See the review
---
"Circus Shakespeare" at Secret Theatre | Cliff Kasden, Queens Courier
Hurry, hurry, hurry for the greatest spills and thrills! In-ta-ro-ducing the Queens Players under the big top! Watch their version of Shakespeare's "A Midsummer Night's Dream"! Hear lions roar, see clowns juggle and behold as sweethearts are stolen from their lover's arms!
Before the ringmaster (Jeff Dickamore) performs feats of daring; Applause for Executive Producer Richard Mazda who welcomes us to the Secret Theatre's newest intimate venue.
Isn't that Puck (Jonathan Emerson) centerstage? Yes, he's a prankster's prankster with a Cheshire cat's mischievous smile. Well done indeed! There's Lysander (Jason Spina) with his beautiful Hermia (Aurora Florence). Come on, Egeus (Charles Baker), can't you see they belong together? If only Demetrius (Robin Rightmyer) could appreciate Helena's (Kathleen Fletcher) devotion.
Feast your eyes on the multicolored, neon bright costumes (Isabelle Fields designer) and cleverly overdone make-up (Emily Lambert designer). Prepare for the gloriously inept play within a play. Play your kazoos thespians (Blaine Smith, Evan Greene, Zack Friedman, Megan Greener, Marcus Watson and Ryan Krause). See the dazzling fairies (Sheree V. Campbell, Sabina Friedman-Seitz, Jaz Zepatos and Megan Greener).
Yes, it's a three ring circus that would make Shakespeare proud. Kudos to director Illana Stein, producers Alberto Bonilla and Jonathan as well as assistant director Emily Jackson. Bravo to the entire troupe!
See the review
---
Much ado going on in Long Island City comedy | Kevin Zimmerman, Times Ledger | October 8, 2013
After closing out its last season with the blood and gore of "Macbeth," the Queens Players have opted to lighten the mood with a slew of fairies and a scenery-chewing jackass in its fall opener, "A Midsummer Night's Dream."
The bard's comedy incorporates three story lines set against the backdrop of the wedding of Theseus, duke of Athens, to Hippolyta, the Amazon queen.
There's mismatched young lovers, a bickering fairy king and queen and an enthusiastic if not quite professional dramatic presentation by a group of would-be actors. All of this unfolds under the watchful, if not completely attuned, eyes of Puck.
Taking her cue from the current smash Broadway revival of "Pippin," director Illana Stein places much of the action of Shakespeare's comedy within the realm of the circus world. Jeff Dickamore, in the dual role of Oberon and Theseus, dresses as the ringleader complete with black jodhpurs and a top hat when he embodies Oberon, the king of the fairies. Similarly, Kate Siepert, who tackles the roles of Titania and Hippolyta, dons a sexy white trapeze-artist dress when she enters the world of magic and spells as Titania.
But it's not until near the end, when the group of ragtag actors perform their version of the Pyramus and Thisbe story, which of course inspired "Romeo and Juliet," that the big top aspect is put to its best use.
Evan Greene, Marcus Watson, Zack Friedman, Ryan Krause and Megan Greener hit all the right notes as a sub-par acting troupe brought together to perform for Theseus and Hippolyta's wedding.
Greener shines in a role where she barely utters a word. She is able to communicate a range of emotions from joy to sorrow to shame with her expressive eyes and slightly exaggerated movements. Greener provides some of the evening's biggest laughs and she is definitely in on the joke.
Another standout is Blaine Smith, who nearly walks away with the whole thing as Nick Bottom.
Bottom, who Puck eventually turns into a donkey, suffers from overconfidence when it comes to his thespian skills.
Cast as Pyramus in the play within the play, Bottom attempts to weasel his way into playing Pyramus, Thisbe and a lion all at the same time.
Playing a bad actor is not an easy task. Some performers make the mistake of overacting when trying to convene a lack of ability. But Smith, who with Siepert, is one of only two Actors Equity Association cast members, is very good at being bad.
Also providing a star-quality turn is Kathleen Fletcher as the lovelorn and supposedly unattractive Helena.
Helena pines for Demetrius who is in love with Hermia who wants to marry Lysander.
Of the four young lovers, including Aurora Florence, Jason Spina and Robin Rightmeyer, Fletcher seems most at ease with the iambic pentameter of Shakespeare's script. She lands each of the rhyming couplets perfectly and sometimes even so subtlely you don't release it for a beat or two.
And while the action seems to drag a bit toward the end — everything seems nicely wrapped up and couples are paired off, but there's yet another scene — overall the Queens Players present the lighter side of Shakespeare with some outstanding talent in a winning production.
See the review
---
Queens Chronicle | Tess McRae
"Lighthearted, funny and entertaining performance that those new to Shakespeare will appreciate."
"The actors were rightfully cast, though the players, most notably Blaine Smith, as Bottom, and Megan Greener, as Starveling, stole the show with excellent chemistry and the over-the-top goofiness required for the fictional mediocre theater troupe."
"Aurora Florence, as Hermia took the seemingly stale damsel who dressed to the nines and transformed her into a ferocious young thing."
"The two groups are controlled and manipulated by the fairies in a magical forest that was beautifully decorated."