Reviews for Hans & Sophie
Amphibian Stage
February – March 2020
Dallas Observer | Anna Lowery | February 11, 2020
At Amphibian Stage, Hans & Sophie Is a Moving Story of Nazi Resistance
"DFW is lucky to have this lovingly crafted production. Through it, we can witness the heroism of Hans and Sophie Scholl while also enjoying high-caliber theater. The significance of the Scholls' history is made all the more real to us by a truly beautiful production, its beauty commensurate with its message of human bravery and sacrifice."
---
TheaterJones | Martha Heimberg | February 12, 2020
In its world premiere at Amphibian Stage, Hans & Sophie compresses youthful heroism and tragedy into a riveting one-act about German siblings who defied Hitler.
"The piercing scenes of this remarkable play will stay with you much longer than the show itself, and remind you that the mantra "silence equals complicity" is still not ready to be retired"
"It's theater at its white-knuckled best."
"The two-hander comes alive because the actors envelop us in the chemistry they create together. Hudock and Brockman are charming and vivid as individuals, and heart wrenching as a brother and sister with a loving connection, both spiritual and historical."
---
TheaterJones | Jan Farrington | February 5, 2020
Illana Stein talks about co-writing and directing the premiere of Hans & Sophie, about the White Rose resistance in Nazi Germany, at Amphibian Stage.
---
Hans & Sophie awarded 5 top honors by the Dallas-Fort Worth Theater Critic Forum 2019-2020
The Amphibian Stage World Premiere won an award in every category they were eligible for including Outstanding Director, Outstanding New Play, Outstanding Design for the production team, Outstanding Actor, and Outstanding Actress.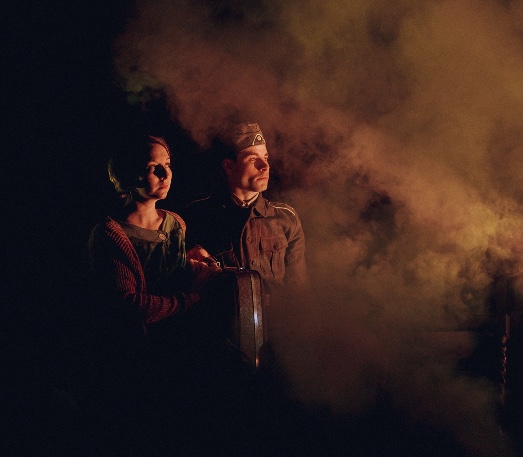 Actors pictured Rebekah Brockman & Sean Hudock.
Photo credit Evan Michael Woods