Theatre Jones | Mark Lowry | October 27, 2017
"A Lost Leonardo is one of Amphibian's finest full productions of a new play in a while. It's funny, beautiful, and thoughtfully directed and performed, the kind of play that sticks with you as you ponder its themes of jumping into the unknown, of never letting one's muse disappear, and the idea that art is as important, and often intertwined, with anything more utilitarian that humans invent or create."
"The company and New York-based director Illana Stein, a Fort Worth native who directed the 'Phibs reading, have developed the piece since the reading. That care is evident in a production that shows Stein as a bigger-picture director."
---
Dallas News | Nancy Churnin | October 25, 2017
"Just a few miles away at Amphibian Stage, David Davalos' tantalizing A Lost Leonardo offers a fascinating, speculative historical riff on the life of a genius with insatiable curiosity… So get thee to Fort Worth. You won't regret it.
---
Theatre Jones | Jan Farrington | December 29, 2017
1 of the 10 best shows to see in Fort Worth/Dallas and a Critic's Award:
The Freakin' Genius award to Amphibian Stage Productions for A Lost Leonardo, playwright David Davalos' dip into art, history, science and warfare—a comical, lyrical piece proving that the endlessly inventive da Vinci is still generating flights of fancy today. And the vitally alive-in- the-moment actor Matthew Amendt (as Leonardo) showed us how to make a strong script soar.
---
Theatre Jones | Mark Lowry | January 2, 2018
Best of 2017: Honorable Mention
---
Broadway World | A LOST LEONARDO to Return in Full Production at Amphibian Stage
"I knew within the first ten pages of reading the script that this was a project I wanted Amphibian to be a part of. Under the expert guidance of director Illana Stein and dramaturg Kate Farrington, I believe A Lost Leonardo will garner as much or more acclaim as David Davalos' earlier play, Wittenberg. I can't wait for North Texas to see this exciting play and the visually enthralling world we are creating," said Kathleen Culebro, Artistic Director of Amphibian Stage Productions.
---
Amphibian Stage Productions Announces A Lost Leonardo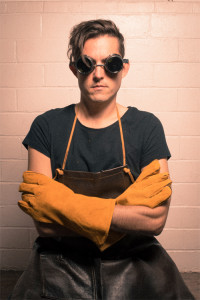 Following an acclaimed staged reading at Amphibian Stage Productions in 2015 under the title Daedalus, A Lost Leonardo returns in this all new, fully-realized production. This final main stage play of the 2017 season features Matthew Amendt, Jenna Anderson, and Jim Jorgensen.
Full Press Release